First Date
This was one of the most popular games in Renai Doumei before it shut down for the first time, now resurrected. :3 This is a monthly contest that lets you be your own fashion designer.
Imagine you're going on your first date... one of the things girls (and guys) spend the most time on preparing is their outfit, because as you all know the first impression is extremely important! So for this game, I will give you a mini scenario that describes where you will be going for your date, and your job is to put together the perfect ensemble.
Here is an example of Sepia going on a summer date!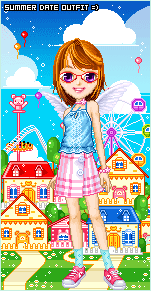 Details
Here are some guidelines to help you with making your doll, and of course, the all-important list of prizes!
We'll be using the eLouai Candy Bar doll maker for this game. Here's some links!
- girl doll builder
- boy doll builder
rules
1. The doll you make MUST be from one of the doll makers linked above.
2. No choosing things from the full body section. Make your own outfit!
3. ONE entry per person!
4. You are not required to use a background image.
5. To save your doll, take a screenshot and upload it to your site. :D
prizes
First Place - 4 any choice coupons, 5 random cards
Second place - 3 any choice coupons, 4 random cards
Third place - 2 any choice coupons, 3 random cards
All other participants - 1 any choice coupon, 2 random cards
Topic & Deadline
This month's theme is:
Ready for a road trip!
The deadline is May 31, get working!
Submit Your Entry
Please comment here with your member name and a link to your doll image! Be sure to include the exact URL to your doll image. You do not have to display the doll on your site (in case you're afraid someone will steal your idea!) but it must be uploaded so we can view it when it's time to judge the contest.

Thank you for entering, and remember to check the pickup area once this round is over to see what you won! :3